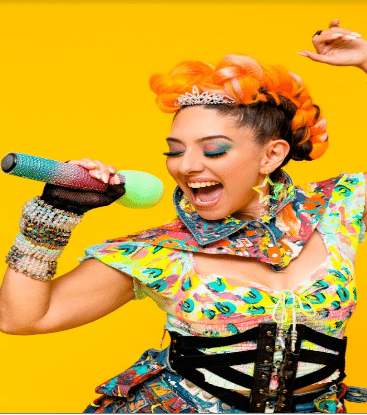 Kids Club Presents – Twinkle Time (10am – 11am)
Twinkle, is the Multi Award-winning Bilingual Children's music phenomenon, presenting her bilingual pop/rock/hip-hop  family concert Twinkle Time to audiences nationwide!
Described as  the "like Lady Gaga for kids," by the New York Times Peruvian-American Twinkle breaks barriers with both her music and positive messages that teach kids to celebrate their uniqueness.
Performing her original songs from her four award winning albums in both English and Spanish, Twinkle's distinct vocals, dazzling costumes and high-energy dancing create a fun-filled Kidzapalooza extravaganza for the entire family! Twinkle Time can currently be seen in the Educational- Live Action meets Animation show Sound Snatcher and Twinkle Time, a series of  shorts that Twinkle stars, co-produced and directed for pbs.org and select PBS markets. Twinkle will be releasing her 5th Children's Family Album in 2023.