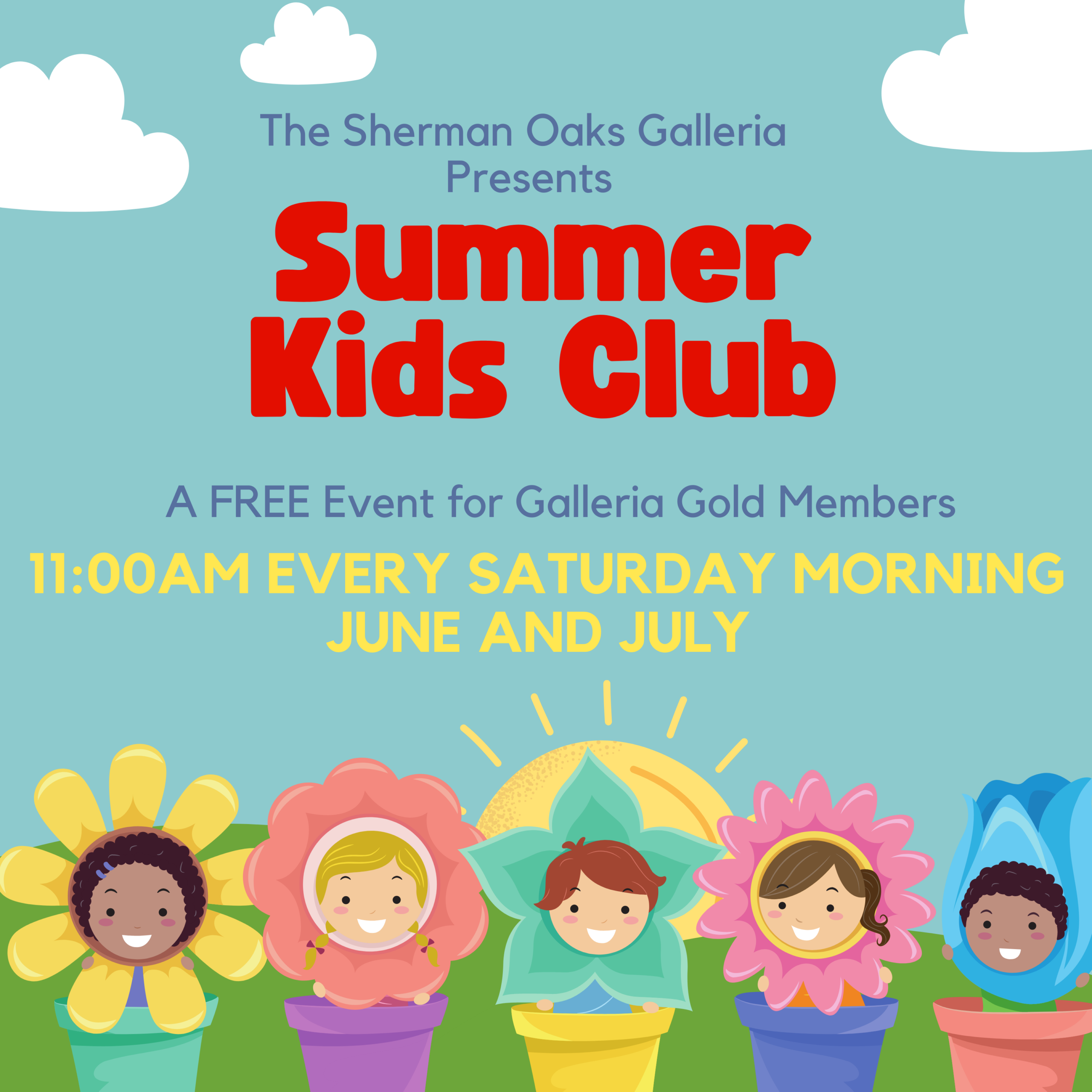 Summer Kids Club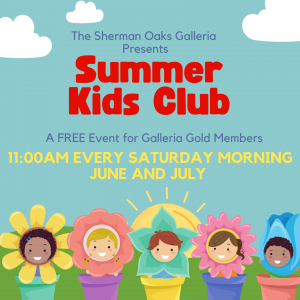 Sherman Oaks Galleria KIDS CLUB Summer Line Up

Twinkle Time – June  4th ,2022

Born and raised in SoCal Bilingual Billboard Charting Kindie Rocker Twinkle Time formed the hit girl band, Disney/Hollywood Records Nobody's Angel,opened for Britney Spears and The Backstreet Boys, sang on movie soundtracks like The Parent Trap, Pokemon, The Wedding Planner, and 102 Dalmatians, earned a Gold Record for two of their songs on The Princess Diaries soundtrack which hit #5 on Billboard Charts. Their hit song "If You Wanna Dance" charted #39 on Billboard Charts and their Album listed as one of the Top 200 Albums of  2000 on Billboard Charts.

Mista Cookie Jar-  June 11 th,2022

LA-based "kindie rocker" Mista Cookie Jar brings his urban-island-folky-rock-&-roll sounds to the world stage. Named by CBS as one of the best acts in Los Angeles, Mista Cookie Jar is a seasoned pro, touring venues such as the Kennedy Center, Lollapalooza, the Smithsonian, and the Getty to name a few. Blending a background in creative writing, poetry & hip-hop production, his music, regularly featured on Sirius XM's Kids Place Live!, oozes positivity & love. Drawing on 4 albums of original material universally praised in the family music community, Cookie's songs keep the party jumpin' while easing the vibe down to admire life's beauty. Settle in as Mista Cookie Jar mixes a rock star excitement with the warmth of family music.

Megan the Bubbleologist  June 18th,2022

Megan the Bubbleologist creates all sorts of amazing bubbles with colorful, fun bubble-wands of all shapes and sizes. With her bubbly personality everyone is sure to have a bubbly time! She has performed all across the USA, including the Apollo Theatre in NYC, The Magic Castle and Flappers Comedy Club in Los Angeles. She's available for bookings, indoors and outdoors! Make sure to also catch her awesome bubble episode on Blippi!

Baila Baila -June 25th,2022

Baila Baila offers a bilingual, dynamic, interactive show for children of all ages. Families sing along and dance with instruments, stuffed animals and more. It's truly a unique experience that inspires children to love music and be proud of their Spanish roots.

Laura Doherty- July2nd,2022

Laura Doherty  On tour from Chicago making a stop in SoCal  Laura acoustically rocks your kid's world with breezy folk-pop tunes from her multi-award-winning albums which feature her adorable puppet friends Muddy Puddles, Jazzasaurus, and Domingo the Flamingo! Doherty has performed hundreds of shows at premier venues and festivals across the country, including Chicago's Lollapalooza, Nashville's Pilgrimage Fest, Austin's SXSW,  Philly's World Cafe Live, and many more! "Doherty writes the perfect pop song for kids: light and breezy  – Chicago Tribune

Jason Mesches  July 9th,2022

Born in New Jersey, and raised at summer camp, Jason Mesches has drawn on his own experiences as a child to bring a new sound and style to the world of accessible family music. Jason, who is based in Los Angeles, has been touring the country for over a decade educating young children through his music and wild dance parties. Jason'a newest album is called "I Wanna Go To Mars", and if you look closely enough, you can see him on old episodes of CBS' "Big Bang Theory" and "Two and a Half Men".

Zany Zoe- July 16th,2022

Los Angeles Magician Zany Zoe is highly recommended. She has over 15 years experience performing magic at events. Her show is fun! a magic show like you've never seen before. Audiences will be amazed by her charming and magical presentation. Her one of a kind magic show also includes engaging music, body movements, humor and comedy. Most importantly, her show will ignite imagination and help children of all ages discover their magical creativity.

Joe Selph presents Rene's Marionettes July 23,2022

Joe Selph is an accomplished puppeteer, magician, ventriloquist and clown, and has been labeled "L.A. 's Most Unique Children's Entertainer".  He is well known for his work in both film and television for the Muppets.

Rene's Marionettes have been delighting audiences throughout the Los Angeles area for many years.  From a dancing monkey to singing chickens to a balloon-blowing clown, the delightful characters are guaranteed to bring out the grins, smiles, giggles and laughs in everyone!

Ruth and Emilia -July 30th,2022

Ruth and Emilia are a mother/daughter music duo who perform in several genres including classical, folk, and children's music. The two are both classically trained musicians with Master of Arts degrees in Music.  They work as college music educators in their communities in addition to concertizing throughout the U.S. and abroad.

The BILLBOARD charting duo's music has appeared on television, in film soundtracks, with symphonies, and in choral and orchestral music arrangements.